Hopes of peace are arising in Somali capital Mogadishu which witnessed the first ever peace run in more than two decades. The peace run which was mainly intended to encourage calmness in the war-torn city was co-organised by the National Olympic committee of Somalia and the mayor of the capital Mahmoud Ahmed Nur, himself a former basketball player.
Former Somali National team member and former international basketball referee Hussein Mohamed Ali (Taranbi) who returned home decades later was honoured to lead Friday's Mogadishu peace run.
The Mayor of Somali capital Mahmoud Ahmed Nur and leading Somali National Olympic committee officials including secretary General Duran Ahmed Farah, Somali Athletics federation Deputy president Abdullahi Mohamed Saneey and dozens of athletes from schools and districts in Mogadishu took part in the 5 kilometres peace run which came as a surprise to many when the capital's Mayor and NOC officials were seen running with athletes in the streets of Mogadishu with no more fear on Friday.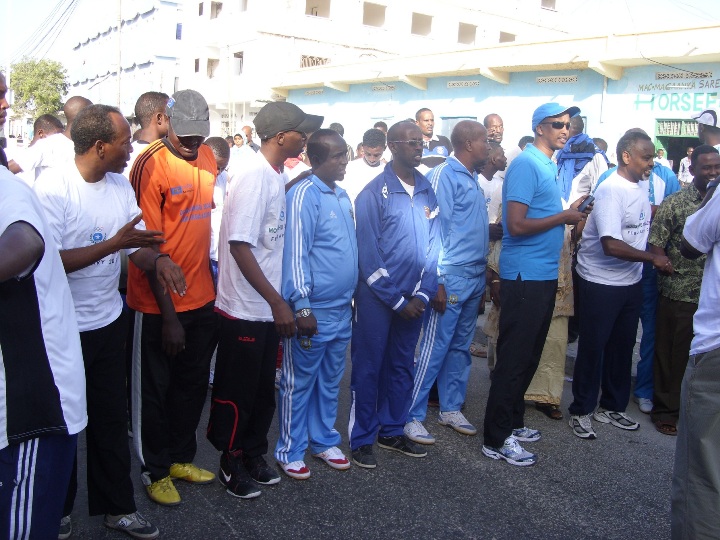 "This is the first such peace run we have organised in more than two decades, the capital currently seems more peaceful in comparison with the previous years, so the Somali Olympic committee intends this run to encourage the increasing peace and stability and to show the outside world that Somalia has fully returned" Somali NOC secretary General Duran Ahmed Farah told the media at the end of the peace run on Friday afternoon.
"We have been hopeless for decades for decades, but now big changes are in place and Somalis became hopeful--we want to build good future and heal the past wounds with sports, because sports creates public integration, joyful life and helps people go forward to civilization and development" Secretary General Duran Ahmed Farah told the media at the end of Friday's peace run.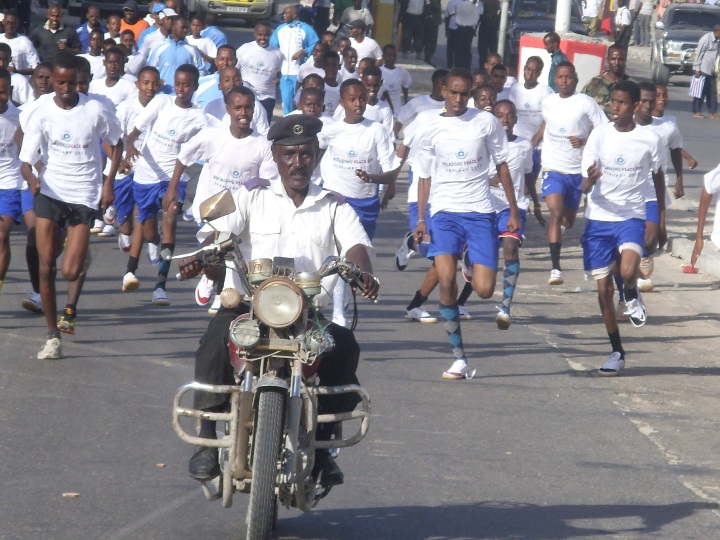 For his part the Mayor of Somali Capital Mahmoud Ahmed Nur popularly known as Tarsan told the media that Friday's peace run was a great example for the increasing stability in the capital.
"Today we have all participated in the long peace run, let alone officials but it wasn't possible for the ordinary people to do such long walk, but we have done today and this shows that there is an increasing stability in Mogadishu" noted the Mayor who praised the Somali National Olympic committee and its affiliated Athletics Federation for the tangible move.
"As a government we are committed to strengthening peace and public integration through sport and in that sector we will closely work with Somali Olympic committee and its member national federations, because we recognize that sport plays a key role in peace building" the former basketball player and mayor of Mogadishu Mahmoud Ahmed Nur emphasized.
By Shafi'i Mohyaddin Abokar
Email:shaficiislow@yahoo.co