As the stability of the Somali capital is rapidly improving Somali Olympic Committee and Mogadishu authority have jointly organized a flourishing mile long peace run to encourage its residents and to emphasize the importance of peace and its relationship to health.
The mayor of Mogadishu himself, SNOC's officials including the secretary general, athletes, students of various universities and schools, Qatar Charity's orphans and hundreds of youth in the capital have participated the Friday's run which is the first of its kind in Somali capital and was widely welcomed by the residents of this war ravaged city who have been lined up the streets to cheer this peace encouraging initiative.
"I am pleased to share with you today here in Mogadishu that the first peace run event organised by Somali Olympic Committee and Mogadishu council has gone successfully. We are very grateful to the mayor of Mogadishu Mohamud Nur for his tireless support and understanding of peace promoting and national awareness initiatives such as this" said the SNOC secretary general Duran Farah who was addressing the crowd and the media at the finishing line of the run.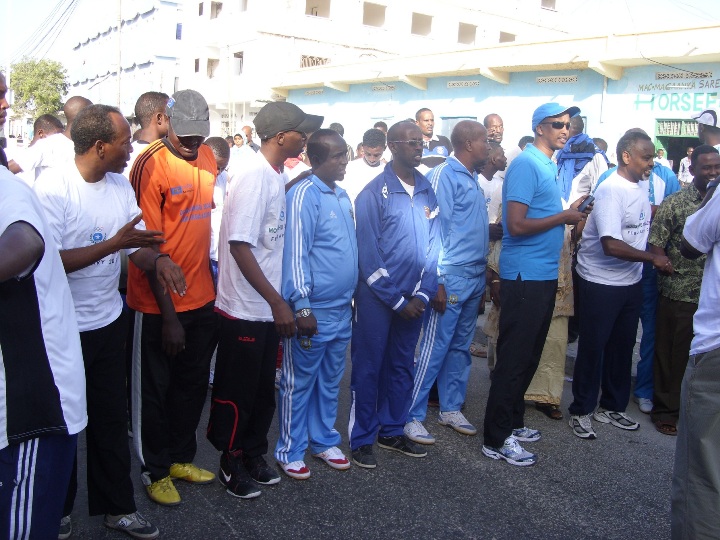 "The aim of the run was mainly to encourage the peace progress of the city and to promote sports activities within the country after such a lengthy time of insecurity and disorder and Somali Olympic Committee is very committed to play its role of raising the awareness and the hope of Mogadishu's youth and children and to turn them away from taking part of violence and extremism" added the recently elected secretary of SNOC
On his part former basketball player and mayor of Mogadishu Mohamud Ahmed Nur has thanked Somali Olympic Committee and the organisers of such an immense gathering for their bright idea and guaranteed the Mogadishu mile long peace run will continue in the years to come which he said will play a vital role to the peace development of the city.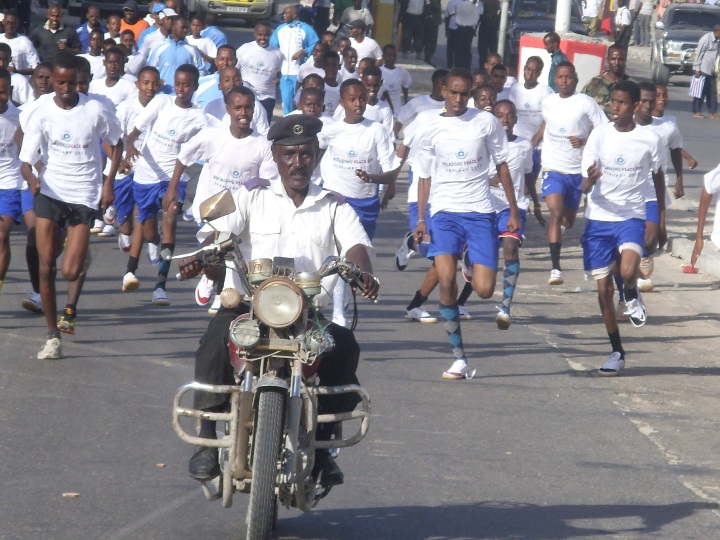 "Mogadishu is recovering with its people from more than two decades of war which prevented all sporting loving community to freely participate sports competitions and activities and what you have witnessed today verifies that the people of Mogadishu are fully supportive of government's efforts to promote peace and stability as well as the Somali Olympic Committee's willingness to organise peace supporting sports activities in the town" said the mayor after completing the mile long run himself.
Mogadishu's few sports facilities have been destroyed by the long civil war that devastated the whole city where just cracked streets are the only track available for Somali athlete who are eager to train and compete in national and international competitions.