Duran Farah the secretary general of Somali Olympic committee met with the president of Kuwait's Olympic Committee who is the head of Asia Olympic Council, the president of ANOC and Olympic Solidarity Commission Sheikh Ahmed El Fahd Al Jaber El-Sabah at his office in Kuwait city.
The secretary who is in two days official visit in Kuwait has expressed his excitement for the visit, praised the generosity and hospitality shown to him by Kuwait's Olympic Committee since he arrived in Kuwait and maintaining the relationship between the two countries in which he described brotherly and distinguished.
In the meeting Mr Duran briefed the president the outcome of the historic and democratic election for Somali Olympic Committee in Mogadishu on January 3rd as well as SNOC's strategic plan for the next four years.
"Firstly on behalf of Somali Olympic Committee let me take this opportunity to thank you and Kuwaiti Olympic Committee for having me here in Kuwait to inform you the security, political and social improvement of the country as a whole and our planned activities towards promoting Olympic values within much peaceful Somalia in particular".Said the secretary general of Somali Olympic Committee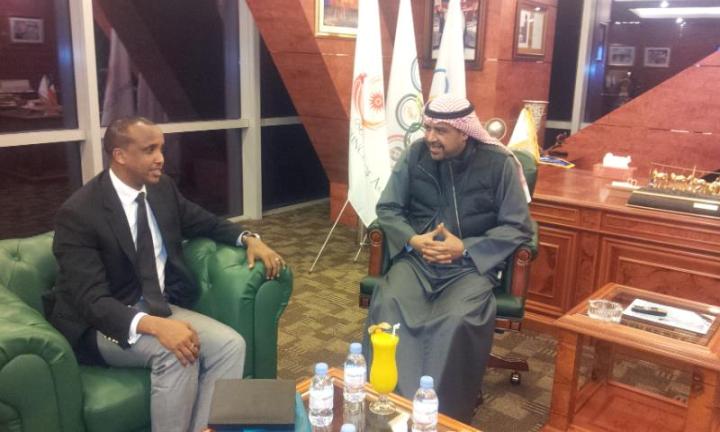 Sheikh Ahmed El Sabah congratulated the president, secretary and the rest of the elected Somali Olympic Committee's administration and wishes them all the success for their new positions. He vowed to continue the cooperation and support for Somali Olympic Committee and urged both Somali and Kuwait's organisations to work closely in the future.
"I was pleased to hear that you have elected a new administration in Mogadishu with the presence of Somali Government representatives. I can assure you that Asian Olympic Council and Kuwaiti Olympic Committee are entirely satisfied for the outcome of the election and will work closely with your administration. I will do everything in my position to help Somali Olympic Committee and assist you to boost sports movement and development in your country"said the president of Asian Olympic Council Sheikh Ahmed El-Sabah
At the end of the meeting Sheikh Ahmed wished Somali Committee progress in sports field, while expecting the co-operation between Somali and Kuwaiti Committees to persist and flourish.