The Association of National Olympic committees (ANOC) has on Sunday evening concluded its 2013 meeting in the Olympic city of Lausanne-Switzerland with the National Olympic committee of Somalia jubilant at the global sports development-related agendas discussed during the two-day meeting which gathered 201 member nations out of the 204 ANOC- Affiliated countries.
Three ANCO Member nations didn't show up for the meeting. They are the Tuvalu Islands and Liberia who delivered their justifications earlier and India who was banned by the International Olympic committee and that was because of the Indian government's intervention in local sport.
Somali NOC was represented in the ANOC meeting by veteran president Abdullahi Ahmed Tarabi and his secretary General Duran Ahmed Farah.
Somali NOC secretary General Duran Ahmed Farah who issued an immediate press release as soon as the meeting came to an end on Sunday evening said that Somali Olympic committee was fully lauding for the wide range of development-related discussions and the tangible decisions taken during the two-day meeting which Somalia believes will help the promotion of sport in general and in particularly the developing nations like Somalia.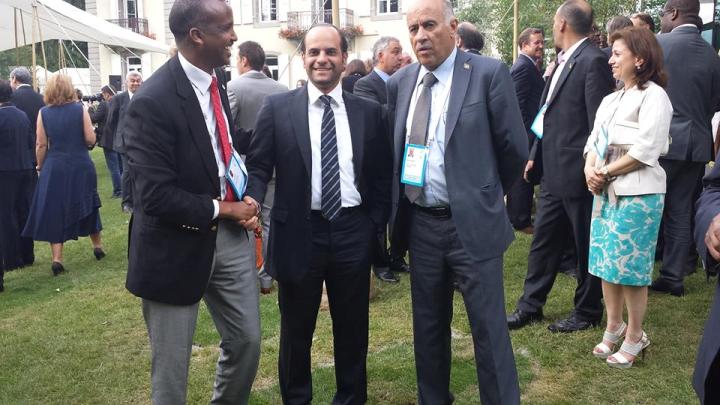 The ANOC meeting was presided by his excellence President Sheikh Ahmed Fahad Al-Sabah who made huge changes in terms of development since he came to office last year, according to Somali Olympic committee secretary General's press statement.
The statement added that in less than a year president Sheikh Ahmed Fahad Al-Sabah's leadership has successfully implemented all what he pledged at his first appearance after election last year.
"The most important things that the ANOC meeting adopted include the reformation of ANOC constitution and the ratification of the ANOC development plans–this is really a great move forward, because countries like Somalia will have more advantage from such huge development programs and in particularly our country where sports is emerging from years of conflicts" Secretary General Duran Ahmed Farah said in his press statement Sunday.
The meeting listened to the reports by the hosting cities of the upcoming Olympic Games who are: The city of Sochi Russia, the host scene of 2014 Winter Olympic Games, Nanjing who will host the 2014 Youth Olympic Games, Rio de Janeiro the host city of 2016 Olympic Games, Pyongyang who will host 2018 winter Olympic Games and Lillehammer the host city of 2016 Youth Winter Olympic games 2016.
Also the cities of Istanbul Turkey, Tokyo Japan and Madrid Spain who are competing for the hosting of 2020 Olympic Games presented their work plans and programs in a bid to attract the attention of those with voting rights.
However the ANOCA meeting announced the host countries of the Association's meetings for the next three years 2014, 2015 and 2016. They are Thailand, the United States of America and Brazil.
By Shafi'i Mohyaddin Abokar
Email:shaficiislow@yahoo.com