A long-term athlete development workshop to increase the involvement of schools for sports development in the country was held in Mogadishu as part of Somali Olympic Committee's durable strategic plan.
For his opening remarks the Olympic Committee's most experienced development officer and lecturer Mohamed Tarabi has outlined the significance of the workshop, what Somali Olympic Committee is expecting for school teachers to achieve at the end of it and the how they can be part of the long-term athlete development programmes for NOCSOM.
Somali Olympic Committee's secretary Duran Farah who was addressing the participants emphasized the importance of getting the sports development message across to the sports community through every channel possible.
"I would like to remind you that you are the most important contributors for Somali sports and hope the workshop will have a significant impact for your involvement to increase school children's participation for sports activities as well as leaving this workshop with ideas that you would directly implement into your lessons and sessions" said Mr Duran Farah who also reminded the teachers that world and Olympic double champion Mo Farah would not have been an athlete if it was not his school PE teacher who spotted his talent and advised him to be an athlete rather than a footballer.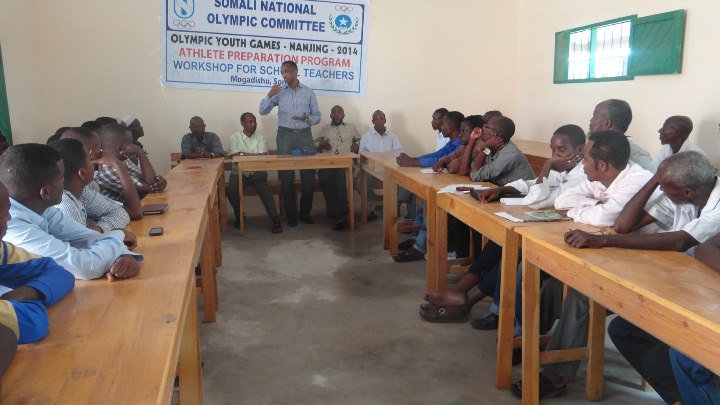 The head of athlete's selection committee for NOCSOM and former football player and coach Mohamud Hagi Ibrahim known as Khalifani described the workshop as useful and inspiring for coaches and PE teachers to develop as a coach and assured them that the children at their respected schools will benefit from them.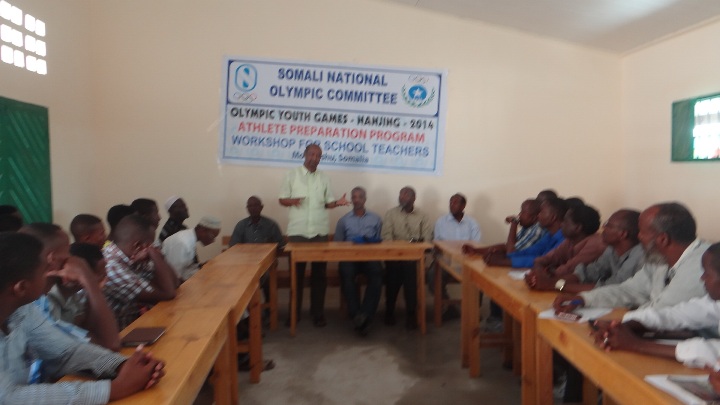 "Despite the lack of security in our country for the past 22 years, government support and financial assistance we as the national body of Somali sports have been trying to take Somali flag and the image of our sport to all regional and international gatherings for participation purposes and we believe the time has come for us with the help of sports federations to take another step forward for seeking success and medals in international competitions" said the president of Somali Olympic Committee Abdullahi Tarabi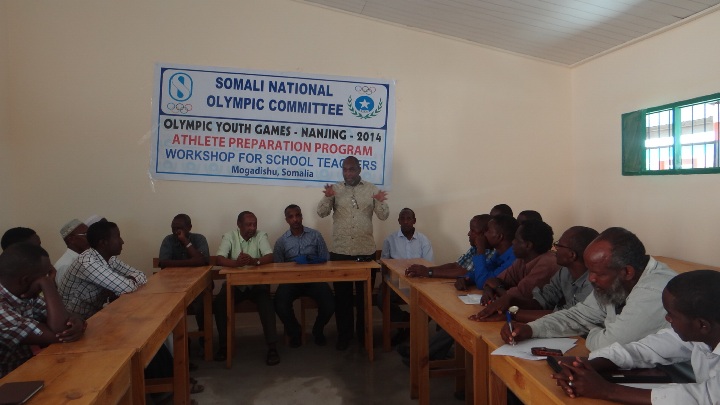 The workshop brings the physical education teachers from various schools within the capital together and was intended to speed up the sports development plans at school level as well as to encourage these passionate mentors to contribute producing an athlete's that can represent the country for international competitions in general andthe youth Olympic games in Nanjing 2014 in particular.