The national Olympic Committee of Somalia has on Wednesday presented various sports equipments to newly established sports administration of Jubbaland region in a bid to expand its Grass Root Sport Development programme.
The Jubbaland sports administration's delegation that has been in the capital for official visit have received Football, Basketball and Athletics sports equipments from the secretary general of Somali Olympic committee Mr Duran Farah who on behalf of NOCSOM vowed to continue supporting to this region's sports community and urged them to broaden its sports activities.
"Let me take this opportunity to thank IOC's International Development and Co-operation department and its director Tommy Sithole who have been a major force and supporter for making this scheme possible as well as being a great friend and supporter for Somali Olympic Committee" said the secretary
"The main aim of this programme is to develop youth through sports from early age and to inspire young people to participate sports activities that could improve their standard of life and can play major role for stabilisation of the region. We know you are working hard to widen sports movements within your region and to bring the community together and that is why we have partnered International Development and Co-operation department of IOC to present Grass Root Sport Development programme which is crucial for youngster's educational, professional and social development and to raise the awareness of the youth in the area of peace".Mr Duran Farah added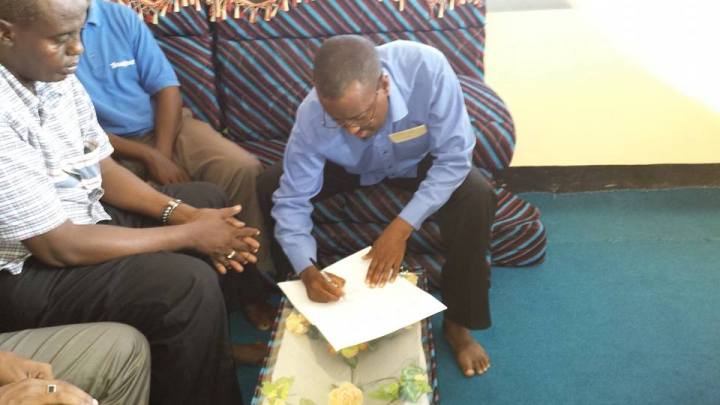 The head of the Jubbaland delegation who spoke at the occasion thanked Somali Olympic Committee and IOC's International Development and Co-operation for their support and encouragement and promised to work with NOCSOM on this programme as well as other initiatives in the future.
Since its launch the Grass Root sport development programme has seen a huge interest from sports leaders, PE teachers, regional administration's sports officials and youth club officials and expected to expand other parts of the country in the future according to the secretary of NOCSOM Mr Farah.