Three day training for school's physical education teachers and football coaches organised by Somali Olympic Committee with the support of Olympafrica and Barcelona Football club was concluded in the capital of Somalia, Mogadishu and was welcomed by the minister of Youth and Sports of the country's federal government.
The Futbal Net training course which was directed and delivered by Mamadou Sambe Mansour, an expert from Olympafrica and took place at the new Mogadishu Olympafrica Centre, brought together over 30 young teachers and couches from various schools in the capital as well as young sports leaders.
Mr Mansour, who spoke at the conclusion of the course, has expressed his gratitude to all Somali sport communities in Mogadishu for their warm and heart-felt welcoming. "I am grateful and thank all Somali sport communities in general, but in particular Somali Olympic Committee for their sportsmanship and heart-warming brotherhood they presented to me since my arrival in Mogadishu. I have been in close contact with the secretary general and the president of Somali Olympic committee for an extremely long time, and they had shown great determination and aspiring plans to open Olympafrica in Mogadishu alongside conducting this course. I am proud that we have accomplished our goals and I am grateful to have been a contributing factor."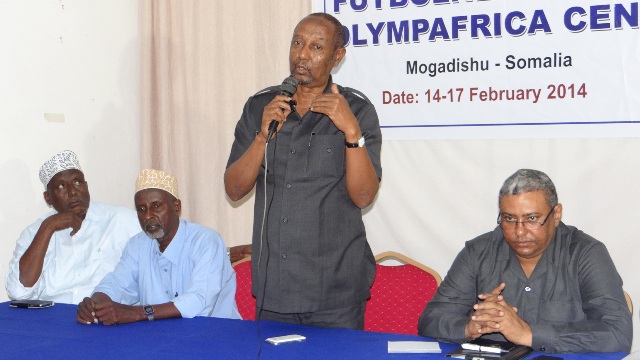 Speaking at the closing ceremony of this well received training at the front of jubilant trainees the president of Somali Olympic Committee Abdullahi Tarabi thanked Olympafrica and Barcelona Football Club for trusting Somali Olympic Committee to open the first Olympafrica Training Centre in the country and sending one of their best and experienced trainers to Somalia despite the negative image about the country.
"On behalf of Somali Olympic Committee I would like to thank Mr Mansour for his support and dedication to help us open this year's first Olympafrica Centre in Africa as well as declining the negative reports from the country and heroically coming to deliver a productive Futbal Net training here in Mogadishu in order to produce young and enthusiastic teachers for Somali Sports" said the president who also advised those who attended the training to pass the values of sports to the young generation through practising and playing football.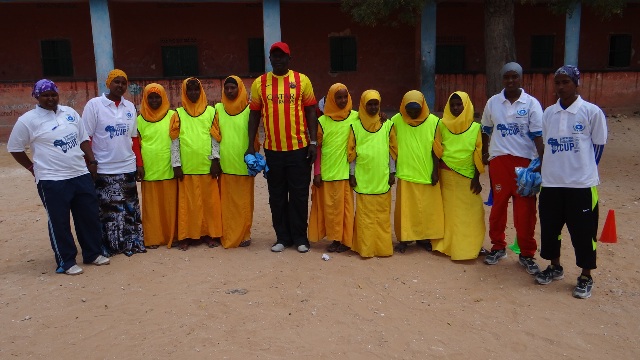 Somalia's newly appointed minister for youth and sport Dr Khalid Ali who has attended the closing ceremony has welcomed the initiative and praised Somali Olympic Committee and its partners for their continuous efforts of developing sports in the country with extreme conditions since the collapse of the country's last strong government in 1990.
Dr Khalid Ali stated, "I personally thank and send my upmost appreciation to the Olympafrica expert Mr Mansour, for his hard and courageous efforts. His arrival in Mogadishu was a clear demonstration of the countries steady and rapidly increasing stability, thus making it a safe environment for international organisation to come and collaborate with local organisations."
He also said that, "The Somali Olympic Committee and their affiliates should be praised and thanked for their admirable and durable work through the past 25 years in such a treacherous environment. Despite the lack of infrastructure and equipment their dedication and determination helped them to protect the Somali sports from complete demolishment, and we thank them for that."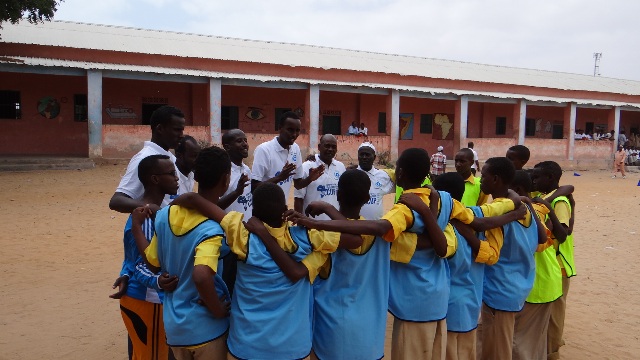 According to the secretary of Somali Olympic Committee opening this first Olympafrica Training centre for Somalia paves a way for more centres to be opened throughout the country as well as carrying out more training programmes in the near future as part of Somali Olympic Committee's development plan for 2014-15 with its main goal of furthering social development through sports.