Somali Olympic Committee has open-handedly distributed sports equipments to various national sports federations and schools in a ceremony held at the head quarter of the National Olympic Committee in Mogadishu.
The ceremony which was attended by the president and general secretary of the National Olympic Committee has brought together delighted representatives of the beneficiaries, sports leaders of the capital and was intended to fulfil the pledges made by the organisation as part of its sports development programmes within the country.
Somali Olympic Committee's president who addressed at the ceremony has outlined the importance of the associated federations and educational institutions for his organisation and how pleased he is to distribute the required equipments.
"We as an organisation realise that it is element of our responsibilities to encourage and support the national sports federations, regional sports administrations and anyone that contributes the development of sports within the country and we are committed to continue such a support which I personally believe is vital for those who are tirelessly working to increase the level of grass root sports activities in this war torn country" said the president Abdullahi Tarabi.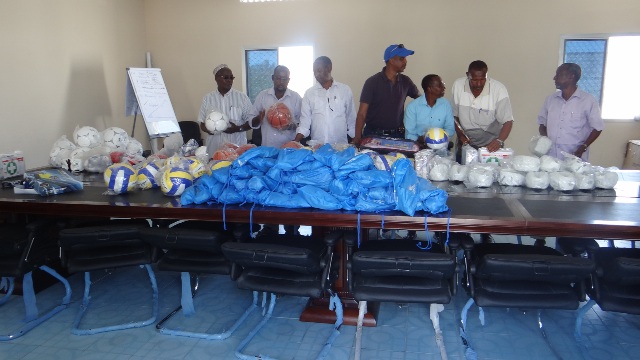 A number of the national federation's representatives who spoke at the ceremony has showed their appreciation and thanked to the National Olympic Committee for enhancing the confidence of its partners and vowed to use these contributed equipments for the purpose of developing sports and youth only.
Somali National Football, Basketball, Athletics, Table Tennis, Volleyball and Handball federations and over 25 schools within the capital were among those who benefited from the contribution at this time where various regions of the country have also benefitted from similar contributions by the Somali Olympic Committee in previous occasions.