This year's first meeting for the executives of Somali Olympic Committee took place at the new head quarter of the organisation in Somali capital, Mogadishu on Thursday,03rd of March 2014.
The meeting which was chaired by the president of Somali Olympic Committee Mr Abdullahi Tarabi and attended by the secretary general and other executives was to evaluate the achievements of the organisation for the past three months and outline the preparation of the upcoming events and projects.
Secretary general Duran Farah has initially presented an overview of all the projects that has been completed by the organisation since the last meeting specifically the conclusion of first ever Somali Olympic Committee house in the history of the Organisation which is now utilized as the head-quarter of the National Olympic Committee.
During the meeting theprogress of the preparation for the upcoming events such as African Youth Games, Nanjing Youth Olympic Games and Rio Olympic Games 2016 were discussed as well as the importance of expanding the organisations activities to other parts of the country where the stability and the confidence of the youth are improving considerably. The appointment of NOCSOM's zones and federations co-ordinators were discussed and approved at some stage in the meeting.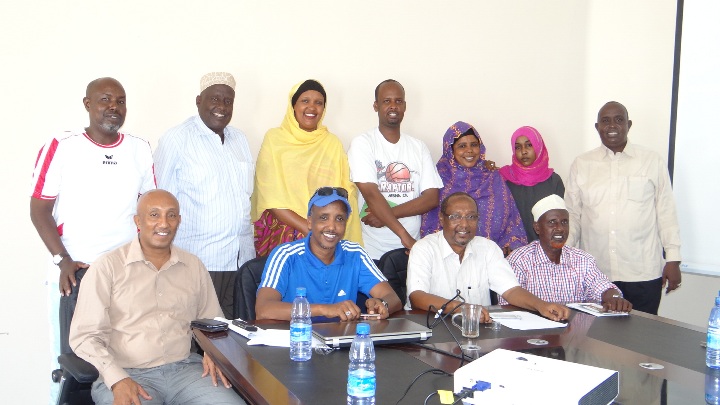 The president of Somali Olympic Committee who concluded the meeting has outlined the significance of the International events and what needs to be done for the participation of such events. He also emphasised in his presentation the future activities, intentions and plans for the National Olympic Committee and how important it is to co-operate with member associations, sports organisations and international sports bodies.
The president thanked his colleagues for their momentous contribution and commitment to rebuild Somali sports from scratch and wished all the efforts for future activities a satisfied ending.