The prime minister of Federal Republic of Somalia Abdiwali Sheakh Ahmed has bid a farewell to Somali officials and athletes before their departure to Gaborone, Botswana where they will represent Somalia for the second African youth games.
The minister of youth and sports of Somali Federal government Dr Khalid Omar Ali and secretary general of Somali Olympic Committee was present at this brief meeting which was held at the prime ministers' office.
Somali Olympic Committee's Secretary General Duran Farah has thanked the prime minster for his reception and sport loving approach he has shown to Somali sports family since he was appointed as prime minister and briefed the PM about African Youth Games and Somali athlete's preparation for the event.
"Mr prime minister, Mr Minister, you are all aware that in other parts of the world sports developments and activities are funded by business sponsorships while undeveloped countries are supported by its governments, but unfortunately we have none of that in our country" said the secretary who was leading the delegation to the continent's youth games.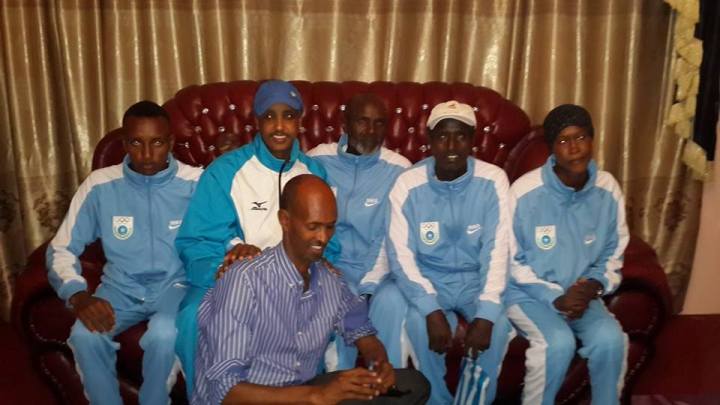 The minister of youth and sports Dr Khalid who spoke at the meeting have praised Somali Olympic Committee and its affiliates for their tireless and hard working manner with complex circumstances since the collapse of last government and asked the PM to allocate more funds to sports developments within the country.
"Mr Prime minister, Somalia has been in every major sport events with our beloved flag among others even though the country was in chaos for a very long time and that would not have been possible without the dedication and the desire of these sporting loving community led by Somali Olympic Committee" said minister Dr Khalid who urged the government to utilize sports as peace building tool.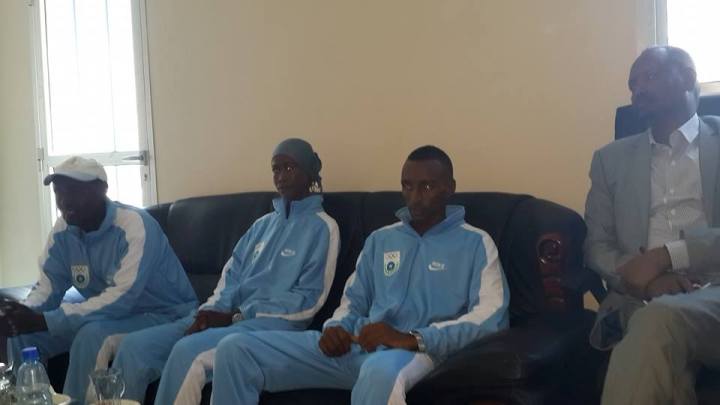 The prime minister has on his part thanked to Somali Olympic Committee and other federations for participating international competitions without government support and wished a success for this tournament.
" I am very well aware of that in any sports competition you expect everything but we are winners for only going there and compete with other athletes who have trained in better environment, facilities and most of all in a nonviolent country" Said the Somali prime minister Abdiwali Sh Ahmed.
Ahmed Hussein Hassan who is 1500m runner and a female 800m runner Maryan Nuh Muse are competing for Somalia at African Youth Games in Gaborone, Botswana.