A large delegation from Somali Sports bodies headed by the secretary general of Somali Olympic Committee Duran Farah has been visiting Juba Region's capital Kismayo to oversee sports development projects within the region and participate the grand opening of the only football Stadium in the city that has been renovated.
The delegation that was included Director of Sports for Somali Sports Ministry, Football and Athletics federation's representatives, director of Nocsom's education department and sports trainers was received at the airport on Monday by the region's sports leaderswhere they have thanked the delegation for their support and encouragement to restore sports activities within the region that has been lacking for the past 20 years and demonstrated how they are prepared and willing to seize these opportunities given by Somali Olympic Committee and its affiliates.
A well planned meeting followed by a ceremony to distribute sports gears to various districts in Kismayo was held on foolowing morning at Qalimow Hotel which was attended by Jubba Administration's deputy minister of Public affairs Ahmed Abdulkadir known as Timajilic and the mayor of Kismayo Said Ahmed Hussein as well as former players and coaches of this sporting loving city.
The meeting was also deeply discussed how Somali Olympic Committee and its affiliated federations and association can contribute further for the revival of sports activities of entire Jubba region as well as the completion and opening of Wamo Stadium which is vital for the restoration of the second biggest Football competition within the country.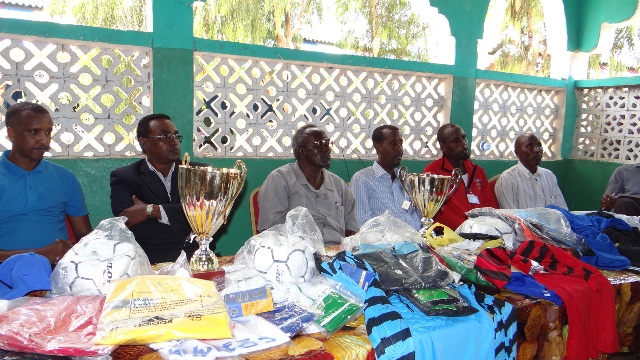 "On behalf of Somali Olympic committee and its affiliates we are very grateful for your warm reception and delighted to see that you are collectively working hard to bring the happy moments for this sports loving population back to their faces. We are working with all the regions and administrations within the country and want to use sports as means to take the Somali name and flag where it belongs" said the secretary general of Somali Olympic committee Mr. Duran Farah
The chairman of the region's sports community Burhan Kukuyo has expressed gratitude to Somali Olympic committee and all the delegation from Mogadishu for the unprecedented support they have given to the region and hoped that they will maintain that support for the sake of not only revival but to allow this region to produce again a young and talented athletes that can one day represent this beloved country.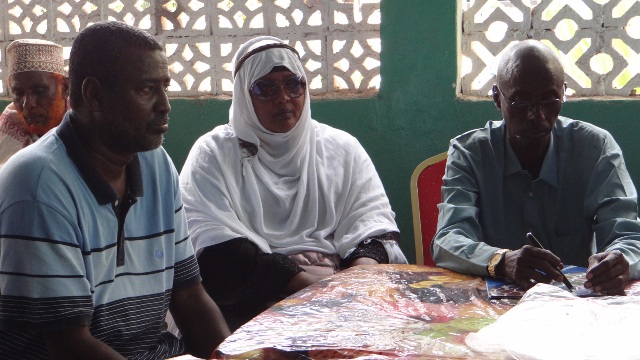 "As Jubba Adminstration we are very thankfull for Somali Sports Ministry, Somali Olympic Committee, Somali Football Federation, Atheletics Federation and all other federations and associations for the continues assistance, back-up and equipments hey have offered to sports leaders of this region and as a government we will make sure that we take our part in order to maintain these sports actions and developments" said the Jubba Region's deputy minister of Public affairs
At the conclusion of the ceremony football and athletics kits, balls, cups, medals, refereeing and coaching equipments were distributed tofive districts of Kismayo as well as the organisers to help them prepare the restoration of the famous football league for this city which expected to start according to the chairman of Kismayo sports community.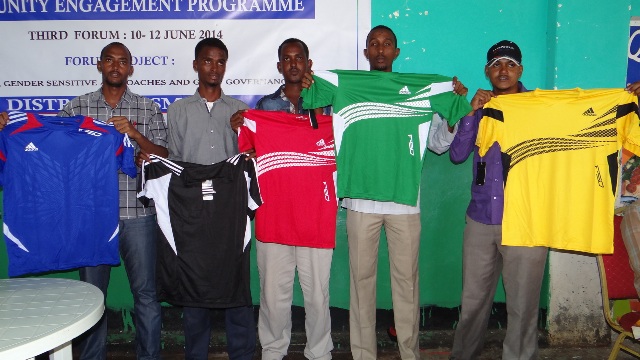 A workshops and seminars to equip the region's sports leaders so they will be able to stage a successful and impressive competitions is expected to be held in Kismayo during the stay of the delegation.