Somali Football Federation has displayed its activity report magazine in London during a ceremony organized by the SFF's administrative representative in the UK which saw the attendance of key sporting officials from different national federations, fans and journalists
Members from Somali Sporting family in the UK who witnessed the displaying ceremony of the magazine have fully lauded for the successive activities by Somali football federation inside the country and as well as the work being done by the SFF representatives operating outside homeland.
Former Somali Football Federation executive committee member Dr. Hussein Diriye Afrah said he was very happy with the real changes of football development made in the country praising the current SFF authorities for their commitment to promoting football in a volatile territory.
"The beautiful magazine here in front of us and the detailed information plus pictures of activities it is carrying are indicating that a huge job was done—the rehabilitation of old soccer facility by FIFA was also a major move forward"
said Dr. Hussein Diriye Afrah who was one of the volunteers who revived Somali Football after the fall of Somalia in 1991.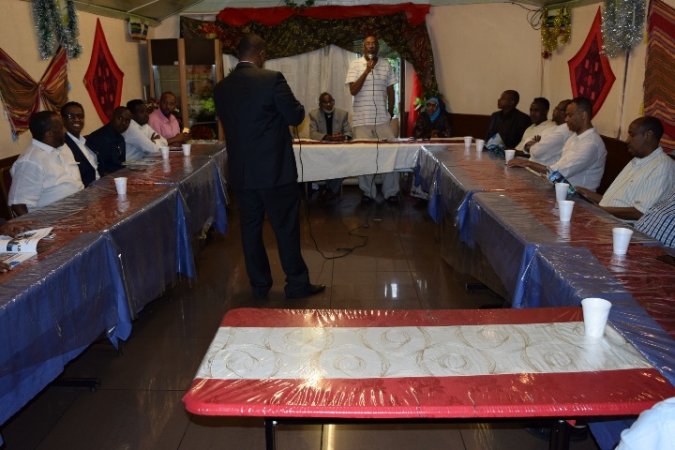 Somali National Olympic committee representative in Italy Abdulkader Hussein Bootaan popularly known as (Isoomareey) said it was impossible to implement such huge development programs in a war-weary country, but noted that because of the commitment of Somali Football Federation officials, the SFF did a fantastic job which couldn't have been accomplished in such chaotic nation.
Mohamed Isse Ali (Digeeye) urged Somali expatriates to support local football development programs adding that the progress currently under way in the country was more tangible.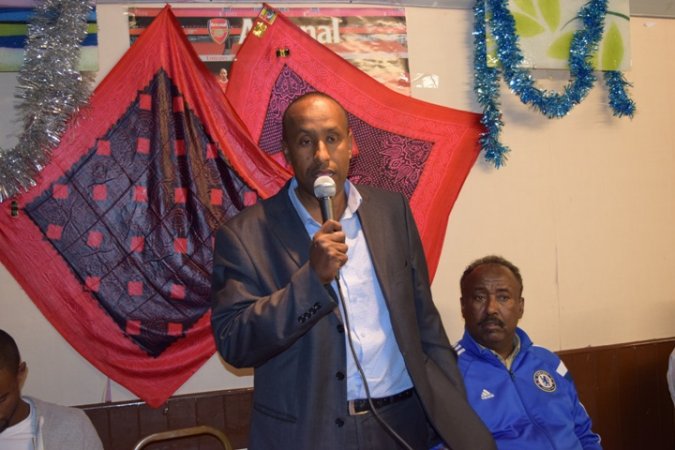 "In this magazine I have seen the pictures of division B and division C clubs taking part in local football leagues—this has really made me remember the good days in the past, because it was more than 35 years ago when I last heard about division B and C categories competing in Somali football" said Mohamed Isse Ali adding that witnessing this was an amazing moment in his lifetime.
Somali Football Federation technical representative in the UK Abdirashid Islow said that since he was appointed to the position in 2011 he and his colleagues collected many talented players from different countries in Europe and the Arab world to give them the opportunity to represent their nation in international competitions.
"I would like to call on young Somali football players across the world who want to play for their nation to contact us and we will then put them on trail and will send them to the national team if they meet the requirements" technical representative Abdirashid Islow told the ceremony.
Another technical representative Rabiic Muse added that he and other volunteers had at least achieved something since they were appointed in 2011 adding that they were committed to redoubling their efforts to make dreams true.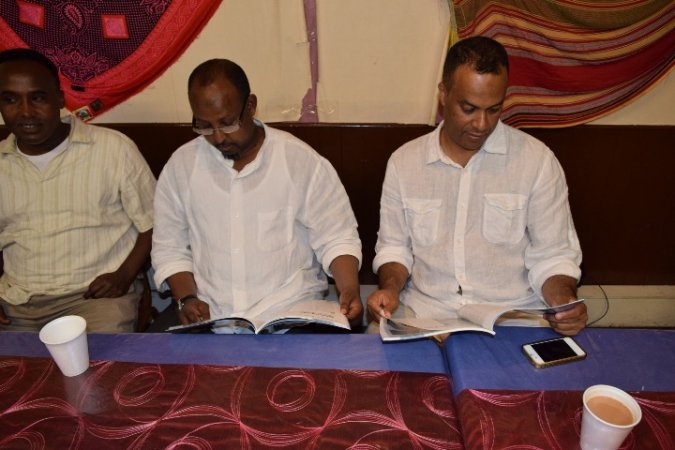 "We are working for the nation of Somalia and we are welcoming every other volunteer who would like to give us an idea or suggestions about how we can grow from where we are now" Rabiic Muse told the ceremony.
Somali Basketball federation vice president for technical development and international relations Hawa Sheik Ahmed (Hawa Taako) told the ceremony that the activities achieved by Somali football Federation were more touchable
"I would like to urge everyone to go to Somalia and see the development on the ground—you can really understand what major activities are under way in the country when you go back home and learn yourself what is going on" added the Somali basketball's iron lady.
"Somalia is now on the way forward as foreigners are pouring into the country to play in local leagues—this is something that had never happened before" Mrs. Hawa Taako noted in her address at the ceremony.
FIBA Africa Zone 5 marketing commissioner and Inter City basketball committee marketing and media commissioner Engineer Bana Abdalla Ali added he was fully lauding for the major changes of development made by Somali Football Federation.
"We all gathered here to share the joyful moment with our Somali Football federation brothers and praise them for what they are doing for the entire country" Engineer Bana Ali explained.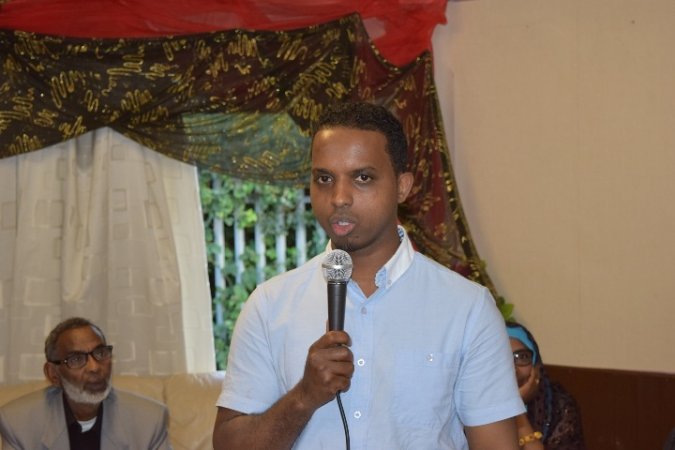 Chairman of the Somali sporting community in the UK Dahir Ali Kulmie said that Somali Football federation was fully praiseworthy for what they have been doing for the past 25 years of lack of lawlessness and hardships in the country.
"Here we see an activity report magazine which illustrates what has been achieved by the SFF—we see that the history of Somali football is now being kept in archive and on behalf of the sporting community in the UK I pledge that we will always be standing alongside SFF" Mr Dahir Ali Kulmiye added.
Diaspora community Role
A leading Somali community member Mohamed Moalim urged Somali Diaspora community to join forces and discuss on what support they can contribute to the Somali Football Federation whose activities were more visible.
"For the past 25 years of bloodshed and anarchy in the country, Somali Football Federation had not halted its activities even for a single minute---this shows that the SFF authorities were committed to protecting Somali football from collapse and they really succeeded in their attempts" he said.
He said that in comparison with the troubled situation under which Somali Football Federation was working he sees that 100% progress has been achieved by the SFF officials.
"I know a few people work with Somali Football Federation from abroad, but I can say we haven't helped our federation in accordance with the big number of Somalis living here in UK and the rest of the developed world, so we need to wake up and do whatever we can to help our country's football" Mr. Mohamed Moalim emphasised.
"I really confess that a very fantastic job was done, because what I have seen in this magazine clearly give us an adequate explanation of the current progress" one of the country's most renowned football legends Engineer Hassan Hussein Kulmiye told the ceremony.
Somali Handball Federation Vice president Mohamed Abdullahi Ali who delivered a short address at the ceremony said that everything was clearer when it comes to the big role of development by Somali Football federation in and outside the country.
He urged representatives of national federations abroad to establish co-operations and help each other as they all work for the nation of Somalia.
Somali UK football development Strategy
Somali Football Federation administrative representative in the UK Dr. Abdi Olad Rage gave a brief introduction of the Somali UK football Development strategy which composes of nearly 10 main sections as part of the long-term football development programs for Somali children between 5-18 years of age.
He said the program will be launched soon and is expected that thousands of Somali children will benefit from the program whose main objective is to educate children under football and help them get the opportunity to represent their nation in international competitions.
Mr Rage also displayed the annual Somali FA activity schedules which include development programs such as coaching, administration and refereeing courses to be organized in every single region in Somalia before the end of the year.
Somali Football Federation Media Department
Email:somalifootballmedia@gmail.com