With the name of "2014 sports and Arts Award", the Somali Olympic Committee's annual award was presented to the vice president of Somali Taekwondo Federation Eng Ahmed Kirish in an exceptionally well organized ceremony at Wish Stadium, in the heart of Somali capital Mogadishu.
The ceremony which began with a game of handball between women's Horsed and Nation-Link handball teams were attended by large number of sports loving community from all parts of the capital, sports writers and commentators, athletes, sports dignitaries and executives.
The secretary general of Somali Olympic Committee who initially addressed the ceremony praised the young and passionate engineer for his determined contribution to NOCSOM's efforts to not only revitalize sports facilities within the country but participation of youth for sports activities as well.
" I am very delighted on behalf of Somali Olympic Committee to announce this year's sports and arts award goes to Eng Ahmed Kirish who has made tremendous efforts to contribute the growth of Somali sports through his professionalism and devotion and helped our organization to prosper" said Mr Duran Farah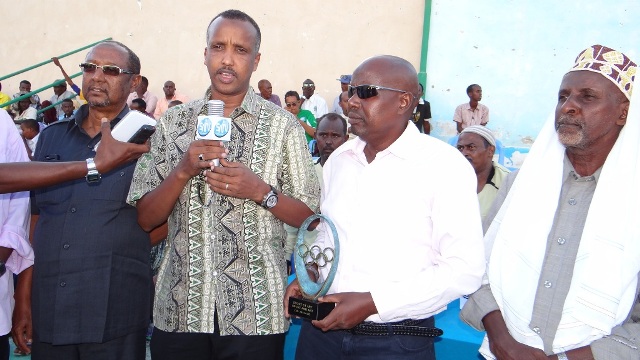 "Mr Kirish is not merely the person who designed the imminent expansion project of the first building owned by Somali Olympic Committee which will increase its capacity as well as most of sports facilities for Mogadishu's districts but he is also the vice president of Somali Taekwondo federation, which during his leadership made a huge improvement and won medals at international competitions for the country and we are very grateful to him for everything he has done for Somali sports community for the last twelve months" added the secretary
The president of Somali Olympic Committee Abdullahi Tarabi who has presented the award to eng Kirish has expressed his gratitude and requested him to continue his involvement for the innovation of Somali sports as a whole and Somali Taekwondo Federation in particular.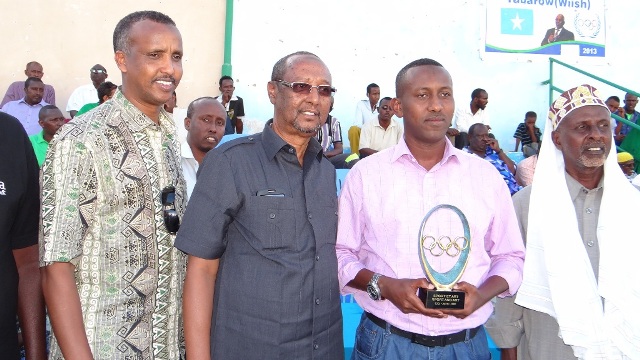 On his part the 2014 IOC's trophy winner has thanked Somali Olympic Committee for recognizing his hard work and presenting this outstanding award.

"I am so delighted and honored to be part of this devoted community , for me winning this award will motivate me more and I would like to thank Somali Olympic Committee and IOC for this prestigious award, that will be in my memory for a long time to come. I would also like to thank my colleagues, athletes and coaching staff of Somali Taekwondo Federation for their co-operation, support and encouragement and I am sure that together we will achieve more in the future" said the overjoyed winner of this year's award presented by Somali Olympic Committee.

?xml:namespace>

?xml:namespace>