Somali Parliament speaker Mohamed Osman Jawari hosted a luncheon for current and former Somali Sports leaders and professionals at his residence on Tuesday to demonstrate his support of Somali sports development as well as to cooperate with its leaders.
The luncheon which was attended by the minister of Somali Youth and sports Mohamed Abdullahi Nuh, president of Somali Olympic Committee Abdullahi Ahmed Tarabi, the secretary general and his deputy, presidents of national associations and federations, former sports leaders and professionals

emphasised the best way of implementing a collaboration between the law makers, government officials and sports community.
For his opening remarks the president of Somali Olympic Committees Abdullahi

Ahmed Tarabi has thanked the parliament speaker for having the leaders of sports community and listen to their demands which shows his willingness to help them and to ease the pressure they encounter daily.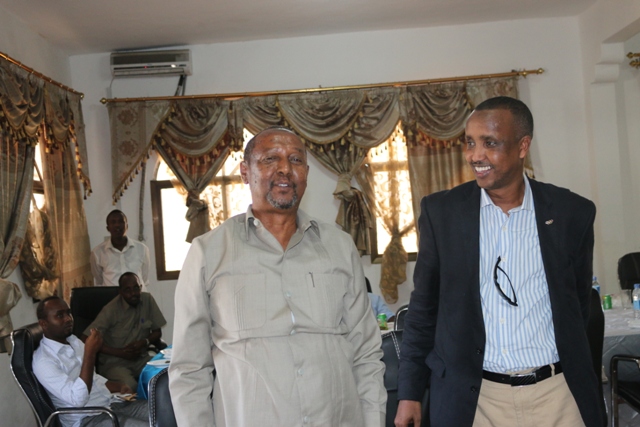 "It is great pleasure for all of us as the heads of Somali Sports to have a lunch with you today and to share our stories consisting of both horrifying and delightful ones during our efforts to reinstate Somali sports for the past 24 years. We have worked in very difficult conditions and hostile environment for this period and as we are emerging from disorder to normality we believe it is time for Somali parliament and its government to have their role and create an environment where Somali sports associations and federations can host their activities for Somali Youth safely and freely". NOCSOM president said
"The main stadium of the country is occupied by African Peace keeping soldiers where other smaller stadiums has not been restored properly, the draft constitution of the country does not state anywhere the role of Somali Olympic Committee and its activities, there are no sports academies in whole of the country and we need you to persuade all governmental and parliamentarian departments involved to act and give us the support and the assistance we need from the government" added by the president of Somali Olympic Committee on behalf of all sports leaders at the launch.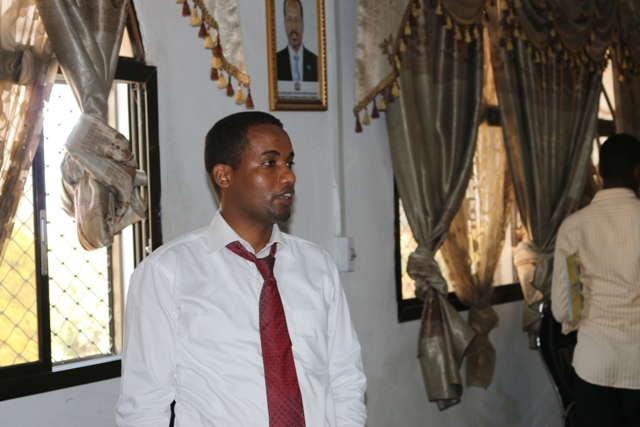 On his part the newly appointed minster of Somali Youth and Sports Mohamed Abdullahi Nuh has thanked the national Olympic Committee's president who initially requested from the minister for the meeting and the Parliament speaker who has accepted his request and managed to arrange a time from his very busy schedule to meet the sports community.
"As a minister I am very well aware of the situations you have been working and numerous individuals you have lost during the process to re-establish and develop Somali Sports and I promise you today that you will be alone to increase the level of activities for Somali youth, to repair sports grounds and facilities as well as facilitating Somali national teams to participate international tournaments. I will do everything within my authority to support you all the way" said the young and energetic minister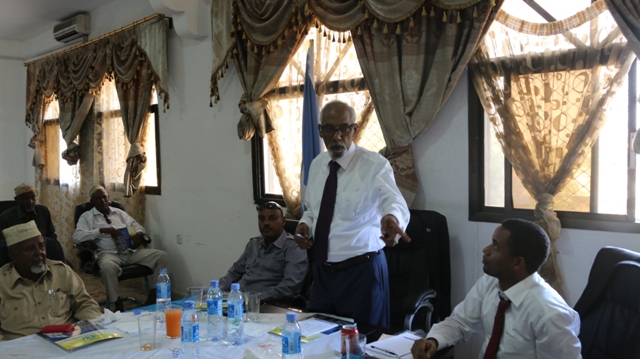 The speaker of the first internationally recognised parliament of Somalia has showed his gratitude to receive the sports community and vowed to assist them in every means available.
"I am very delighted to welcome you here today and listen to your concerns. You have a young minister who is also a parliamentarian and I believe his presence in both the government and parliament will be very efficient for expanding your work to other parts of the country and grow sports as a whole. All of your concerns and requests will be looked at and I can assure you that we will do whatever we can to lift you up from where you are at the moment. Please do not shy away to knock my doors as they will always be open for you". Concluded the speaker of Somali parliament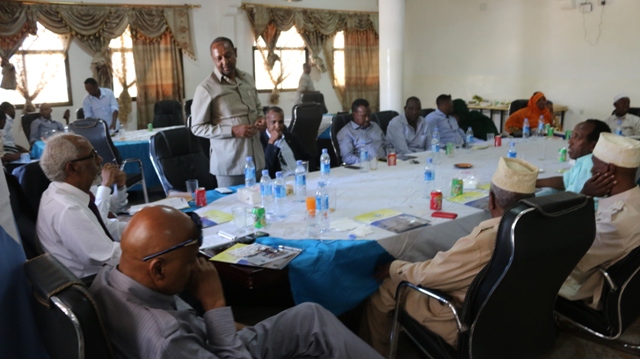 It is the second time within a month that Somali Olympic leader organises such an important meeting for Somali sports community which in many experts' view intended to create a healthy relationship between Somali Olympic Committee, National associations and federations, former leaders and professional and Somali government.